Rev. Eric Joachim
Associate Pastor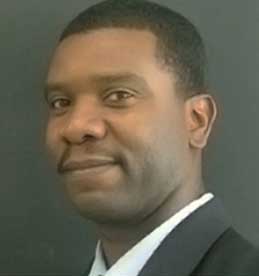 Born in Ouanaminthe, Haiti, in a modest Christian family, Eric Joachim grew up in the midst of the First Baptist Church of Ouanaminthe. At fifteen, he accepted Jesus Christ as his personal savior and was baptized by immersion January 20, 1991.
Pastor Joachim received his theological training at the Faculty of Theology of the Christian University of Northern Haiti formerly known as Baptist Theological Seminary of Haiti. Meanwhile, he studied Law and Economics at the State University of Haiti in the city of Cap-Haitien.
He was a professor at several colleges including the distinguished "L'Université Chrétienne du Nord d'Haïti" (Christian University of Northern Haiti). Pastor Joachim is a member of the Baptist Convention of Haiti and the Christian University of Northern Haiti where he worked in more than one sector.
Pastor Joachim traveled to the U.S. in 2006 to join his family. There he was greeted by the First Baptist Church Haitian Manhattan and now serves as Associate Pastor since December 2007. Currently Pastor Joachim is studying Healthcare Systems Management at Metropolitan College of New York.
Pastor Joachim is a famous lecturer for the benefit of God's people in their search to grow spiritually. He focuses on equipping God's people for the works of ministry. May God continue to use and train him for His service and also bless his ministry